Sharing my sister's (the BRIDE) full Bachelorette Weekend in Miami 4 Day Itinerary. This includes a FULL itinerary, pictures, Bachelorette game, gift ideas, decorations, where to stay, who to invite, additional Restaurant recommendations, & lastly what to wear! This was the perfect way to celebrate leading up to her big day in Merida, Mexico at the most beautiful hacienda!
This post is long overdue as we went a couple years back, but I hope this is helpful to anyone planning out their Bachelorette Weekend in Miami or girls weekend getaway trip!
Full Itinerary Overview:
Thursday:
Staggered arrivals at our hotel FontaineBleau. Hangout at pool & catchup with everyone.
8:30p Dinner at Katsuya – ordered a variety of sushi rolls to share with table. We were luckily there during Miami Spice (restaurant week) so we got some amazing deals for our meal!
NOTE: A promoter came up to us while we were at dinner which turned out to be a great perk for the weekend! So don't be freaked out if any come up to your group upon arrival as they can definitely hook you up with tables at the bars/clubs. Was a big cost saver for us that weekend which was nice to have! (**Not sure how the scene has changed post Covid though**)
11p Cocktails at Rose Bar at Delano and The Broken Shaker – Both bars are super cute and the perfect way to ease into the weekend! We had an early start Friday, so we did not want to go super hard our first night in Miami.
Friday:
9:30a Eden Rock Beach Yoga ($35 a person) – We called ahead to organize a group class on the beach. If it rains they will accommodate you inside. We bought Emily (the bride) a "BRIDE" sports bra to wear for the class! The yoga class was beginner level and perfect for all fitness levels.
11:00a: Breakfast at Cecconis. I ordered the acai bowl (loaded with dragon fruit, berries, bananas, almonds, mango, and coconut flakes) which was delish!
12-5p: Pool/Beach day – we got a cabana on the beach through our promoters and soaked up the sun all day.
7:00 -11:00p:

Order in Dinner – we ordered pizzas and made cocktails in the hotel room.
Bachelorette Games:

Lingerie Shower: Every guest bought the bride lingerie and we opened each gift and gave a name to the piece. We created a menu for the groom to request different 'names' during their honeymoon.
Ask the Groom: We emailed the groom 20 questions about their relationship such as 'When did you first say I love you?' or 'What is your least favorite thing about the bride?' Email/DM me if you are interested in the question full list. During the bachelorette we played a drinking game where Emily had to guess what his answer would be. If she got it wrong everyone took a sip.

Pregame:

We created a bachelorette playlist with upbeat songs to jam out too during the pregame.
Our go-to cocktails were vodka, muddle mint, and fresh squeezed lemon. So good!
We made sure to get mug shots of all of the guests along with taking photos with our gold backdrop.
11:00p: Liv Nightclub – This club is conveniently located within the FontaineBleau so all we had to do was head downstairs! We connected with a Miami Promoter who hooked us up with a booth on the top level. If you are with a large group of girls, you have higher odds of being able to work with a promoter who can get you tables and bottles which is definitely a great perk!
Saturday:
Wake up, Casual Breakfast, Get Dolled up for Day Club
12:00-5:00: SLS Hyde Bar – Pool Party. Work with promoter to secure a cabana and drinks. You MUST get there early and dress your best! We all put on a full face of makeup, earrings, our nicest swimsuits/coverups, and heels as this is a very nice day club!
9:15: Dinner at Puerto Sagua which serves authentic Cuban food. This was perfect for our drunk eats after partying at the pool all day.
11pm: Rally and go to Basement Bar. This bar is so much fun and has both a bowling alley and ice skating rink in edition to a club area.
Sunday:
Farewells – Staggered Departures
Hangout at hotel pool for girls with later flights
Gifts:
For the Bride:
New Monogram Passport Case (international wedding)
Large Pineapple Beach Tote (the bag we got her is sold out but this bag or this monogram bag are also super cute).
For the Guests:
We provided goodie bags in these brown paper bags (to keep costs low) to all of the guests (including ourselves because we loved the gifts):
Decorations:
Shop on Amazon
WHERE TO STAY:
There are so many amazing hotel options to choose from during your Bachelorette Weekend in Miami. Location is the most important thing to consider in addition to what amenities you are seeking.
Ocean-front hotel in prime location close to the best bars & restaurants in South Beach. This is where we stayed for my sister's bachelorette and we had an amazing experience with skyline views of Miami. We booked three rooms side by side to each other.
Address: 4441 Collins Ave Miami Beach, FL
Price: $$$
Boutique Luxury Hotel with a girly aesthetic and the cutest pink umbrellas on the beach. This is where the SLS pool party was which would be super convenient to be close to the room if needed! I LOVE the hotel aesthetic and this is a more affordable option than the FontaineBleau while still getting the luxury experience.
Address: 1701 Collins Ave Miami Beach, Miami Beach, FL 33139
Price: $$
Great South Beach location with rooftop pool and happy hour snacks + drinks. I stayed here during a Girls Getaway Weekend in Miami and had a great experience! This is a more affordable option that is still close to all of the main attractions.
Address: 660 Washington Ave, Miami Beach, FL 33139
Price: $$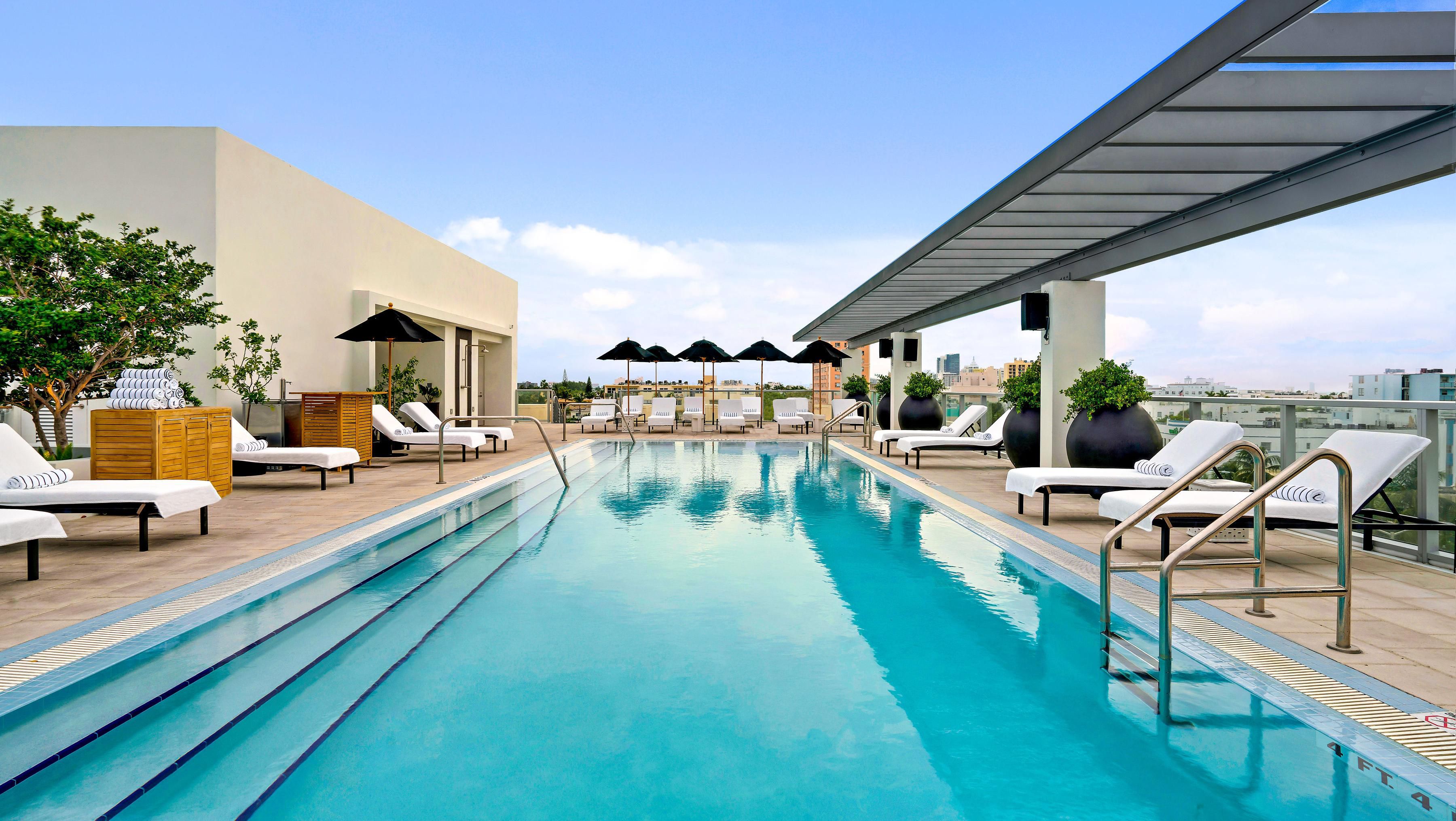 Search Additional Miami Hotels Here:
Who to Invite:
Bridesmaids + any other friends that you want to invite! My sister had a lot of bridesmaids so this was a chance to invite other meaningful girls in her life to our that could not be in the bridal party. We used Doodle to coordinate the best date to celebrate Emily's Bachelorette Weekend in Miami that worked for everyone.
Additional Recommendations of Where to Eat & Drink:
Outfits:
My sister was firm on no matching outfits among the girls. The ONE rule we had was that the Bride would be the ONLY person wearing white. The Bride packed 3 night time white dresses, 1 White One-Piece (for SLS), 1 White Bikini, 1 White Coverup, and White Statement Earrings.
Hope this helps plan the most epic Bachelorette Weekend in Miami and the more you plan ahead of the trip the more seamless it will be! I would recommend putting together a budget sheet as well to keep track of all expenses. Remember not everything is going to go exactly as planned but it definitely helps having a mapped out itinerary to use as a guide. Have an amazing time spoiling the bride-to-be and friends!
Also be sure to stalk all of her wedding deets in my Destination Wedding in Merida, Mexico – Hacienda Tekik de Regil recap!
And be sure to check out my Bachelorette Weekend in Savannah, GA (Full Itinerary) recap for more bach inspo!
xx,
PIN IT: