This 1 Week Greek Islands Itinerary includes where to stay/eat, how to get around, and the best attractions to visit. Includes stops in Athens, Mykonos, Santorini, and Milos. This was a sisters trip so lots of fun beach bars/clubs included as well included in this itinerary!
My sister and I spent the BEST WEEK of our lives exploring the Greek Islands a few summers ago. We could not have planned out the itinerary any better, and we 10000% recommend you to book your own trip to the islands ASAP. The trip started in Athens (Day 1) and explored three different islands – Mykonos, Santorini, and Milos.
1 Week Greek Islands Itinerary At a Glance:
This 1 week Greek Islands Itinerary is one full day in Athens and 8.5 days exploring the islands. Starting in Athens is best as there are so many flights into the city and you can hop on a ferry pretty easily to make your way to the islands.
Athens: Day 1
Mykonos: Days 2-4 (3 Days)
Santorini: Days 5-6 (2 Days)
Milos: Days 7-9 (2.5 Days)
Day 1 – ATHENS:
Transport:
Highly recommend booking an overnight flight to Athens, Greece (we booked via United Airlines). Taking an overnight allows you to wake up in Athens with a full day ahead of you. Make sure to pack an eye mask for the flight (this silk sleep mask is my FAVE) to maximize sleep time. Most flights will turn the lights on at the beginning/end of flight. Sleeping pills could help too if you have a hard time sleeping on long flights.
Accommodation:
We stayed at an AirBnb (not listed anymore) within walking distance to the Acropolis. With only one day in the city we wanted to be close to explore the main attraction. We would definitely recommend staying at a place close to the Acropolis.
What to do:
With only one day in Athens, we would recommend spending most of the day exploring the Acropolis with it being the main attraction. Start your visit at the Acropolis Museum which was really interesting to learn the history behind the sights. (Paula and I were also crazy jet lagged which led us to sneaking in a quick cat nap at the museum 😅)
Once finished exploring the museum, you can begin your hike to the top of the Acropolis. It had the most incredible views of the city!
There is also another trail we hiked that was right across the street from Acropolis with an INCREDIBLE view of Athens (far bottom photo). If you ask around, I'm sure someone can help you find it (sorry that I can't provide better directions for this one)!
Eats:
For lunch we stopped at a cute cafe along the walk to the Acropolis. There are a bunch of cafes and restaurants along the walk, and we would recommend any of them to pop in. For dinner we walked to the cutest area in Plaka and got chicken kebabs and gyros for dinner. Afterwards we got cocktails at 360 Degrees which has some of the best dining views of the Acropolis. Definitely a must-visit if you have the time!
Some other recommendations we received:
Restaurants:
Balcony Restaurant – Our AirBnb host said this was her fave!
Cookoovaya – Premium Greek Cuisine
Kuzina: Great view of the Acropolis
Aleria – Premium restaurant with great food & seating
Bars/Clubs/Cafes:
The Clumsies – Voted one of the best 25 bars in the world
Giasemi Cafe in Plaka
Kolonaki Area
Agia Eirini Square – Great area for cocktails & drinks
S.I.X. Dogs
Day 2 – Mykonos:
We took a ferry over to MYKONOS via Ferries in Greece and had the remainder of the day to explore the old town.
Accommodation:
We stayed at the Vista Loca which we would definitely recommend. This came with a free pickup straight to our room. The view was beautiful, it was close to the port, and we were in walking distance to the bus stop which took us straight to Old Town. Keep in mind that Mykonos is very spread out so having a room close to the bus stop was a huge perk!
Transport:
We had the HARDEST time getting a taxi UNTIL someone told us about the Aegan Sea App. Download this ASAP if you are going to Greece, this was a LIFESAVER. This is essentially the Greek equivalent of Uber and we never had any issues with it. The bus is cheaper, but the app is the way to go if you are in a time crunch.
What To Do:
We got lunch at Nice N Easy restaurant which we absolutely LOVED. They are dedicated to serving healthy, organic, and locally grown food that is environmentally conscious.
We continued to explore the beautiful Old Town getting lost in the shops & streets. Walk over to the windmills to snap a few pics (don't need to spend much time there). Afterwards, walk over to Kastros to grab a cocktail. Kastros had the CUTEST alleyway with an amazing view of the island. Definitely a must-see!
Walk up to 180 Sunset Bar which has the most INCREDIBLE sunset view of Mykonos. It was a bit of a scene with everyone scrambling to get their iconic sunset photos, however the view was definitely worth it!
We finished off the night at Remezzo which was so much fun! Dinner starts late in Mykonos so we made the reservation for 11 P.M. Tell them it's your birthday for some light up glow necklaces, a sparkling cake, and some dancers to your table. So tell them it's your birthday 🙂
(This also worked out because it actually WAS my birthday during this trip so no better way to celebrate!!)
Day 3 – Mykonos
What to do:
We slept in (gotta love jet lag) and spent the majority of the day at Alemagou Beach Resort which was super relaxing and turns into a night club when the sun sets.
You should aim to get there by 12 – 12:30 to get a lounge chair. We HIGHLY recommend doing this beach club or Principote over the more well-known Paradise as they were the right level of crowded and super chic.
Day 4 – Mykonos:
We made some German friends at Alemagou and ended up hanging out with them the entire time for out last day in Mykonos. We hung out at their villa poolside while they cooked us a greek barbecue with kebabs, pita, tsatziki, grilled veggies, and hummus.
At night we all left for Scorpios to dance the night away. This was another trendy day to night beach club that we would absolutely recommend visiting. They have day beds by the water to lounge all day, a restaurant to eat dinner, and then the main area turns into a night dance club.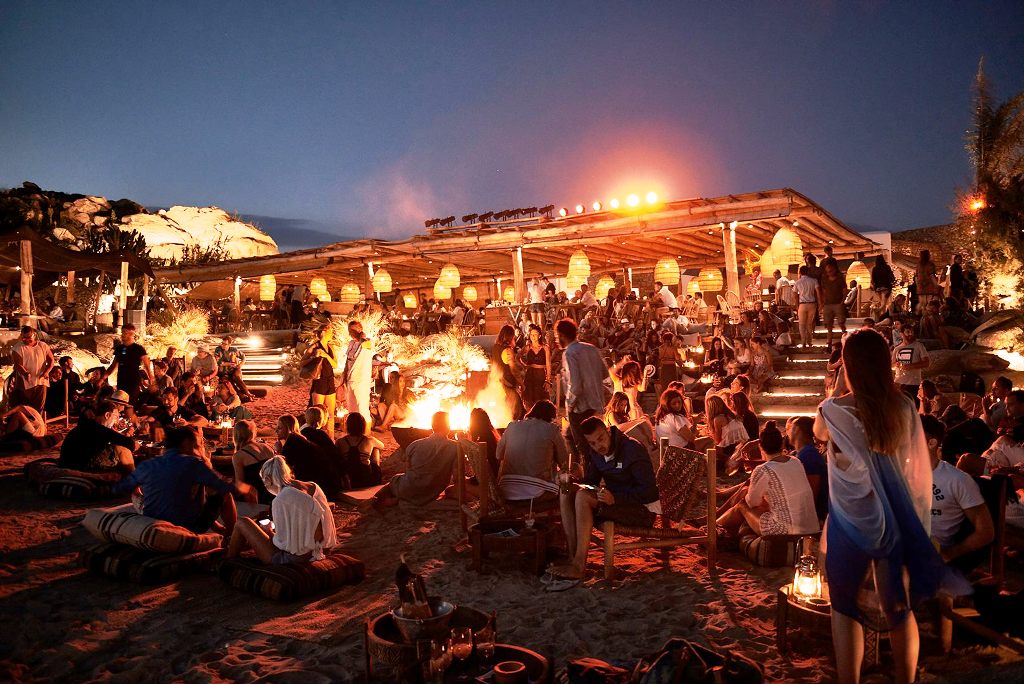 Paula and I would both agree that meeting these guys was the highlight of the trip as they were so kind, caring, and fun to hang out with! Our biggest travel tip is make friends!! Trust your gut and intuition when meeting new people abroad, but half the fun is traveling is the people you meet along the way! We were beyond sad to say goodbye to them after such an amazing two days.
Some additional Mykonos Recommendations:
Go to Saint Anna beach club around 12 P.M. and then go to Spilia for lunch around 3 P.M. where you can take a swim in a cave. (This was the one thing we were so bummed we couldn't squeeze into the trip. Apparently a must)!!
Sea Satin – Traditional Greek Dinner where everyone is singing Greek songs and smashing plates by the end of the night.
I Scream – homemade ice cream in the Old Town
Day 5 – Santorini:
We were sad to leave our new friends and move on to another island but it was time to leave. And when I say sad I mean ready to cancel Santorini all together just so we could keep hanging out with our new friends. 😅
However, we knew we couldn't miss out on Santorini and moved on with the original plan. We ferried out that morning via Ferries in Greece at 9:30 AM and arrived at noon in Santorini!
Santorini was a bucket list item for us since we could remember and were beyond excited to check this island out!
Accommodation:
We stayed at the Muses Cycladic Suites (booked through Booking.com) with a White Sea View Studio with Private Balcony.
We would definitely recommend this hotel as it was reasonably priced, and right across the street from the most touristy part of the island (Oia).
If you can, book a taxi ahead of time or have a hotel pick up as we were scrambling to get a ride to the hotel from the port.
Eats:
We walked to Melitini for lunch which was super convenient with it being across the street! There was the most perfect view of the water and the food was absolutely delicious. We ordered some dips and the grilled chicken kebabs with veggies.
What to do:
We spent the remainder of the day exploring the main strip in Oia which was absolutely stunning. We snapped countless photos while weaving in and out of the shops. The sunset is funny enough one of the main attractions in Oia and people will begin to camp out very early on to snag a great spot of the view.
Paula and I booked a dinner reservation to have the perfect sunset dinner view at Kastro. The scene of tourists trying to get a great spot was pretty entertaining to witness from where we were sitting.
The dinner was delicious but we preferred the less touristy and chaotic sunset (shown below) on the next day on our sunset cruise.
We called it a night pretty early on as we were exhausted from our last few days of partying it up in Mykonos and had big plans for day 5!
Day 6 – Santorini:
We woke up bright and early to hike from Oia to Fira. This is a MUST if you are Santorini. The hike is about 5-6 miles and the views were absolutely incredible. We walked through all of the major towns on the island which was so much fun checking them all out. We even snapped a topless pic when we found an area with nobody around (sorry dad)!! 🙃
If we were to do it again we would recommend STARTING in Fira and ending in Oia as our hike the other way around was mostly uphill and far more challenging.
We stopped for lunch at Cafe Gallini which is another MUST. It had the most incredible view of the calderas, and the best food options. We ordered the acai bowl, matcha, and scrambled eggs. So perfect after the long hike!
We explored Fira for a while then took a cab back to Oia via bus to freshen up for our sunset cruise!
2:30 PM: After having time to freshen up we had a hotel pickup for this Sunset Catamaran Cruise with Meal and Drinks. This most definitely had a couples vibe to it, but we had a blast nonetheless. We made friends with a few couples on the boat, and we sailed around to different parts of the islands. Unfortunately, due to weather conditions, we could not stop at the red and black sand beaches, but we enjoyed the tour and had the most beautiful view of the sunset.
We definitely enjoyed our spot over the crowded restaurant we experienced the night before, and the dinner was perfect!! Absolutely recommend booking one of these for your next trip to Santorini.
Day 7 – Milos

:
Unfortunately, our time in Santorini had to come to an end, so we took a ferry on to the final island of the trip… MILOS! We were SO excited to end on this island, as we read nothing but great things about this island when planning out the trip.
We took an 8:30 AM ferry to Milos and arrived at 10:30 AM giving us the remainder of the day to explore the island. The ferry was booked through Ferries in Greece and we had a great experience on all of our ferries during the trip.
Accommodation:
We stayed at the Aggelos Studios which may have been our favorite place that we stayed at for the trip. It was in the perfect location, in walking distance from the main town, and the host picked us up and dropped us off at the ferry. There was free wifi, and the owners were so friendly and accommodating!
Eats:
There was no where in particular that stood out to us as a MUST EAT here. Most of the restaurants were pretty similar, and we just walked around the main town until something caught our eye.
What to do:
The bus system was SUPER convenient, and we looked over the schedule before hopping on the next bus towards Sarakiniko. This is a non-negotiable must see. The view was INCREDIBLE, and we had a blast doing some cliff-jumping!
You can easily spent the majority of the afternoon in Sarakiniko. Keep an eye on the bus schedule to take it back home once you are ready to leave the beach.
Head to Plaka for the evening via bus, to watch THE MOST BEAUTIFUL SUNSET OF YOUR TRIP. This is no lie. We were in awe of the view here and there was not even close to the crowd that we experienced in Mykonos and Santorini.
The sunset shown below is a MUST SEE while in Milos, the view was absolutely breathtaking.
After dinner, we went back to Adamas, and explored the boats on the port to pick one for a full boat excursion on our final day. You MUST select your boat the day before departure, as they fill up fast! We looked at a few and ultimately decided on the large wooden boat with food included (you will know what we are talking about if you visit). We figured a larger boat would increase our odds to make new friends!
Day 8 – Milos

:
We woke up bright and early for a full day of a Milos Boat Tour! Most of the tours had similar aspects/routes, and we decided to go ahead with the full day. This boat tour is a non-negotiable activity in Milos. The island views were stunning, and our guide shared some interesting stories of the history of the island. We had omelettes for breakfast, and fruit and grilled meats for lunch. The boat also had an open bar with beer and wine to enjoy for the day.
Some boat tour highlights included: meeting a group of Greek boys whom we instantly hit it off with 😊 , snorkeling in caves, and the blue waters which were insanely beautiful!
Paula and I were joking earlier that we needed to find our own Kostas (Sisterhood of the Traveling Pants Reference). Therefore you can imagine our excitement when we actually met an IRL Kostas!!
We got home pretty late after the boat, therefore we just met up with our new Greek friends in Adamas for drinks. That night we made plans to spend our final day with them on the beaches!
Day 9 – Milos

:
We were beyond sad with this being our FINAL day on the islands. The phrase "all good things must come to an end" never felt more real. We made plans with our Greek friends to meet up on at Alogomandra beach they had found and highly recommended we visit.
They did not let us down, as it was the most perfect cave like beach that was not too crowded with tourists. We had such a blast hanging out with them for the day, and just soaking in our final day in the sun and in the islands!
We ended the trip in the most iconic way possible, riding on the back of our Greek friend's motorcycles back to our hotel to head out to the airport.
We truly felt like we were soaking up the island life, and made some incredible friends along the way. We were beyond sad to leave our well planned 1 week Greek Islands Itinerary, but excited to plan out additional trips ahead of us! Beyond grateful to have made the friends that we made, as this trip would not have been the same without them!
This goes without saying that it is not where you are but it is who you are with.
Anyone planning out a trip to the Greek Islands soon?! Couldn't recommend this trip enough, and hope this 1 Week Greek Islands Itinerary helps you plan out your next getaway!!
Also, I highly highly recommend checking out my one week in Croatia recap as well if you love this 1 Week Greek Islands Itinerary. It was veryy similar vibes and another top trip of my life.
Also be sure to check out my 21 days in Europe – Solo Trip recap for your next Euro trip!
xx,
PIN IT: